News
7 Best Yoga Mats for a Nonslip Practice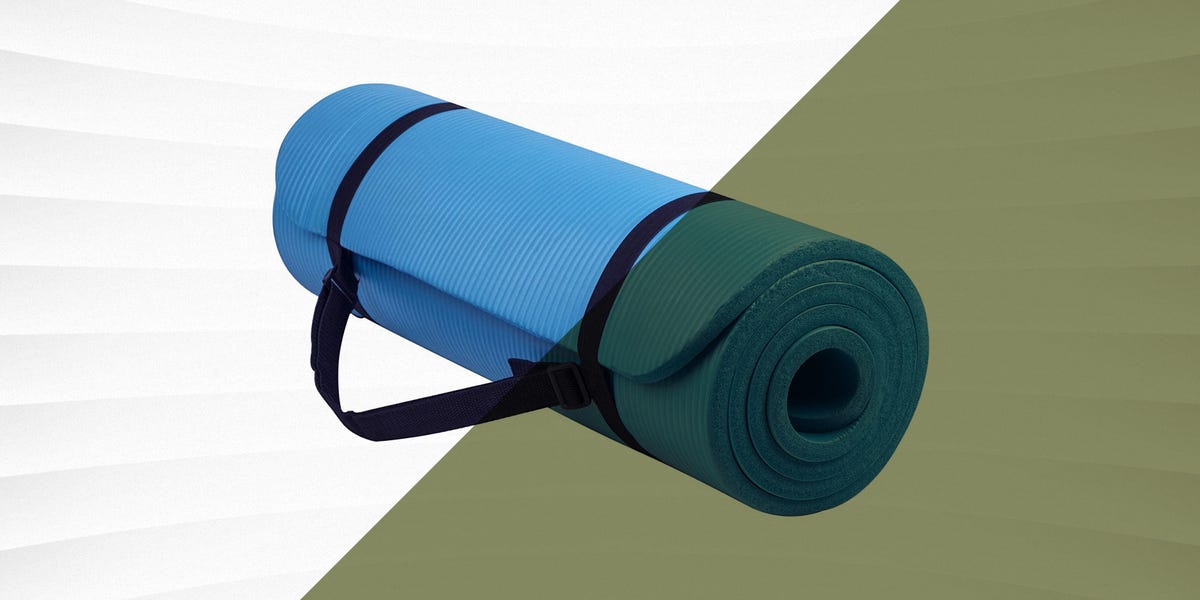 Staff, Courtesy of BalanceFrom
Whether you're an experienced yogi with a daily routine or you're just learning the ins and outs of yoga, a mat is an essential piece of gear for a successful practice. Not only does a yoga mat provide a decent amount of cushion between you and the ground, as well as support for your hands and feet, it's also made out of a material that doesn't get slippery when wet. Translation: A good yoga mat won't have you constantly readjusting your hands and feet or feeling like you're slipping all over the place. Plus, a yoga mat defines the area on which you're practicing, meaning your sweat won't end up on the floor.
What to Consider When Buying a Yoga Mat
Thickness, Size, and Weight
When it comes to yoga mats, thickness varies. While a beginner might prefer a thicker, plusher mat that provides a lot of cushioning under the hands and feet, a more advanced yogi might turn to a thinner option, which is still supportive under your body but also allows you to feel a bit more grounded. Both are viable options; it's up to you to decide which you prefer. The thickest mat on our list is nearly 13mm, but most fall in the range of 5 to 6mm. While most of the mats here are about the same length and width, they do vary slightly, so choose one that best fits your size. You may also want to consider your yoga mat's weight, depending on how you plan to carry it. The 7-pound Manduka is more ideal for leaving at home or tossing into the backseat of your car, while the 1.6-pound Gruper is more conducive to being strapped to your gym bag or slung over your shoulder.
Nonslip Design
For what it's worth, you can perform a yoga sequence on any surface, including your living room carpet or outside on the grass. But neither of these surfaces provide the nonslip support that a yoga mat does. Most yoga mats are made out of rubber or a rubber-like material and have a sticky design on the top and bottom layers that provides some traction. This keeps your sweaty hands and feet from slipping when you're practicing and the mat from sliding around on the floor.
Price
The price range of yoga mats varies immensely—our list includes mats that cost as little as $22 and up to $128. Some seem extremely expensive, while others with great reviews are a lot cheaper. The mats that cost more usually have guarantees and will last you years of yoga practice. Some of the mats that are a bit less expensive still perform well but may not last as long over time. If you're just getting into yoga, perhaps a cheaper mat is a good place to start until you decide how much you love—or don't love—yoga.
How We Chose These Yoga Mats
As a fitness and health editor, runner, and National Academy of Sports Medicine Certified Personal trainer, I've always tried to include yoga in my workout regimen. I've taken classes in studios, where I've been able to use the Jade Yoga mat and the Manduka Pro yoga mat. I've had semi-private sessions, where I experienced the feel of the Gaiam Essentials yoga mat. And I've also done flows at home on recovery days, using the Lululemon Take Form yoga mat. The other yoga mat options below offer various thicknesses, materials, and price points, and all have been reviewed positively by many users.
If you're looking into purchasing a good yoga mat that won't have you slipping around and having to readjust your grip and footing with every pose, try one of these great options below.
3D Design for Easy Positioning
Lululemon Take Form Yoga Mat
Lululemon
lululemon.com
$118.00
Weight: 4.9 lb.
Thickness: 5mm
Dimensions: 71 x 26 in.
Material: Natural rubber 
The 3D zoned-cushioning design on this yoga mat is there to help you find your alignment, and so you're able to balance in difficult poses without having to look at your feet. We love that the textured patterns allow you to center your body using touch, so you can feel if your feet are equally distanced without having to look down. We also like that the mat is made out of sustainable sourced natural rubber and is FSC (Forest Stewardship Council) certified to support the protection of forest ecosystems. It comes in plain colors as well as multicolor patterns.
Thinnest Mat
Jade Yoga Harmony Yoga Mat
Jade Yoga
amazon.com
Weight: 4.2 lb.
Thickness: 5mm
Dimensions: 68 x 24 in.
Material: Rubber
This is one of the thinnest yoga mats on our list, but after using it for multiple yoga sessions a week—and as a pad for some at-home strength workouts—we can attest to its extreme durability. We didn't experience any tears or damage to the rubber. The mat has superior traction, and even when our hands and feet got relatively sweaty, we didn't slip around. Plus, for every mat sold, the company gives back by planting a tree with Trees for the Future.
Environmentally Friendly
Gaiam Essentials Thick Yoga Mat
Gaiam Essentials
amazon.com
$21.86
Weight: 3.11 lb.
Thickness: 10mm
Dimensions: 72 x 24 in.
Material: NBR foam
Made from nontoxic PVC material, this environmentally friendly yoga mat gives you another reason to feel good about yoga. We liked that the mat is thicker than most and provides a good amount of cushion under our hands and feet, even when we were on our stomach or back. The nonslip top allowed us to move through a flow seamlessly or hold a pose without having our hands or feet move at all. The mat comes in nine colors and includes a carrier strap for easy transportation.
Instructor Favorite
Manduka Pro Yoga Mat
Manduka
amazon.com
$120.00
Weight: 7 lb.
Thickness: 6mm
Dimensions: 71 x 26 in.
Material: PVC 
This popular yoga mat is favored by many—including instructors—for multiple reasons. It's 6mm thick, so it provides a good amount of cushion and support between you and the floor. The textured top layer isn't slippery at all, making it easy to hold positions like Downward Facing Dog without having to readjust your hands because of slippage from sweat. It comes in six colors, is available in 71- and 85-inch lengths, and comes with a lifetime warranty. 
Largest Mat
Healthyoga Eco Friendly Non Slip Yoga Mat
Weight: 2.2 lb.
Thickness: 6mm
Dimensions: 72 x 26 in.
Material: TPE 
Thanks to the latex-, metal-, and PVC-free construction of this yoga mat, it's nontoxic and extremely eco-friendly. It's also odorless, which we appreciate. You'll feel confident placing your hands and feet on the nonslip TPE material, and using the patterns and lines on the mat to help you align your body correctly, so you don't have any slips. You'll also love the feeling of the 6mm of cushion and support beneath your hands and feet. It's worth noting that this mat offers the largest area on which to practice, if that's important to you.
Thickest Mat
BalanceFrom GoYoga Extra Thick Yoga Mat
BalanceFrom
amazon.com
$21.54
Weight: 1.8 lb.
Thickness: 12.7mm
Dimensions: 71 x 24 in.
Material: Natural rubber 
This half-inch thick mat is the thickest on our list and offers more cushion and support under your hands and feet—and glutes, knees, and back—for grounded poses and exercises. Its high-density foam is slip-resistant, so you never have to worry about losing your grip. The bottom layer of the mat also keeps a tight grip on the ground, so the mat won't move or shift when you do. Thanks the mat's moisture-resistant material, you can wash it with soap and water without having to worry about damaging it.
Dual-Layer Construction
Gruper Yoga Mat
Weight: 1.6 lb.
Thickness: 6mm
Dimensions: 72 x 24 in.
Material: TPE  
This eco-friendly yoga mat has a dual-layer construction, so it's extremely durable and not prone to tears or damage. Both the top and bottom layers have a sticky finish that prevents the mat from sliding around on the floor and your hands and feet from slipping mid-workout. Its included carrier strap makes transporting it to class easy, and it comes in eight beautiful colors—green, blue, pink, gold, gold rose, purple, and light and bright yellow.
This content is created and maintained by a third party, and imported onto this page to help users provide their email addresses. You may be able to find more information about this and similar content at piano.io
Most Related Links :
usanewswall Governmental News Finance News