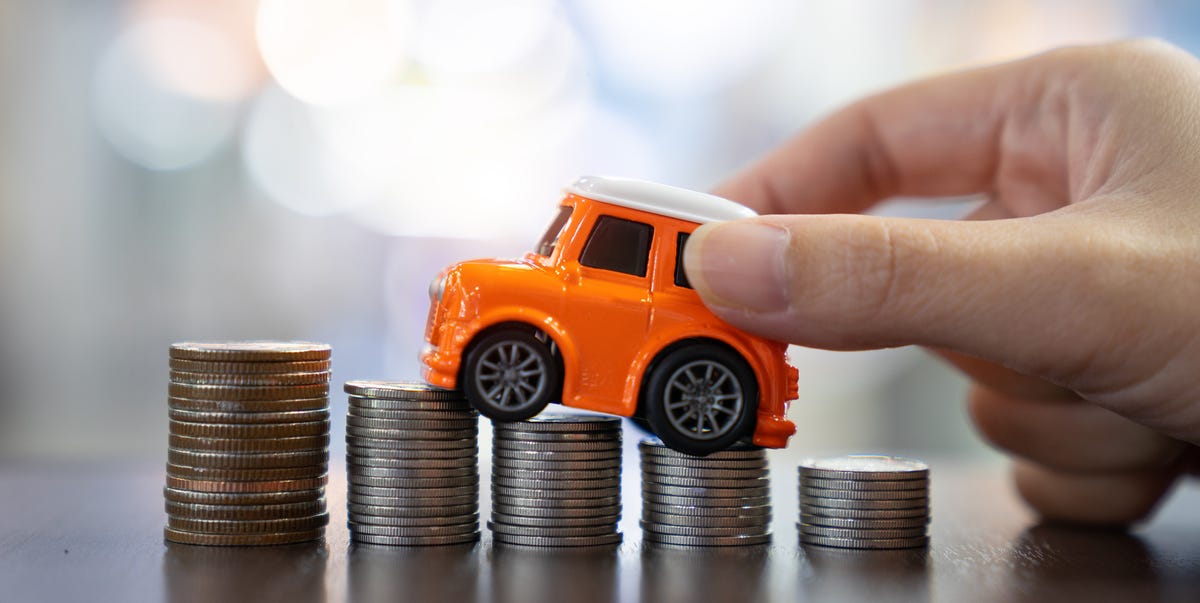 krisanapong detraphiphatGetty Images
Paying your car insurance premium keeps you and your vehicle insured. Understanding what a premium is and how the cost is calculated can help you budget for your own car insurance costs.
What Is a Car Insurance Premium?
A car insurance premium is the amount of money you pay regularly for insurance on your vehicle. Some people pay their premiums monthly, while others pay for six months or a year of coverage at a time. By paying your car insurance premium, you are securing coverage that will pay for what is outlined in your policy, such as collision, liability, or comprehensive benefits. Those who bring more risk to the insurance company tend to pay higher premiums.
When you buy car insurance from the insurance company you select, you are paying for protection from the significant financial liability that you would incur if you caused an accident and caused damage to your vehicle, another person's vehicle or property, and/or the people in either vehicle. Each insurance company calculates risk and sets its own determination for rates, although Value Penguin reports that premiums are usually based on three key factors:
Information about you as a driver.
Information about the type of vehicle you drive.
The type of coverage on your policy.
If you want to save on car insurance premiums, it is helpful to compare rates from several insurance companies.
How Are Insurance Premiums Calculated?
Policy Genius reports that when calculating and establishing auto insurance premiums, companies use several factors and considerations. The purpose of these calculations is to balance the likelihood of you filing a claim with how much you have to pay for coverage. For example, a middle-aged female who drives an older station wagon will generally pay lower premiums than a teenage male who drives an expensive sports car. The likelihood of the insurance company having to pay a claim on the younger male driver is higher, and the cost to repair his expensive sports car would be more than the cost to repair an older station wagon.
All insurance companies use their own formulas when calculating premiums, and many of these companies update and modify their formulas regularly. According to Nerdwallet, some of the most common factors considered when calculating premiums include:
Personal details about the driver: These personal details include the gender and age of the driver. Younger drivers have less experience and are charged higher rates. Insurance companies also generally believe that younger drivers are more likely to take risks than older drivers, although seniors are typically charged higher rates than middle-aged drivers. When a driver reaches the age of 25, their insurance premium will typically go down.
Location: Car insurance companies calculate the risk based on your zip code, and they are typically looking for areas with higher crime rates, higher accident rates, and heavy traffic. Those who live in less populated areas or safer zip codes can qualify for lower rates.
Driving history: Another factor in your car insurance premiums is the likelihood that you will cause an accident. Your driving history can be an indicator of this factor. The risk assessor will look at how long you have been driving and how many violations you have on your record. Drivers with excessive violations are considered high-risk and may not qualify for coverage with certain insurance companies. In most cases, insurance companies only look at three to five years of driving history, so anything that happened prior to that time period will not usually count against you or impact your rates.
Credit score: Your financial history is reflected in your credit score, and insurance companies use this number to calculate your risk. The Zebra states that those with lower credit scores are riskier to insure as they may not pay their premiums on time or at all.
Vehicle type: The type of vehicle you drive impacts your insurance premiums as the insurance companies take into account what they would have to pay to repair or replace your vehicle. Imported vehicles may cost even more as they require specialized repairs and parts that are more expensive. If your vehicle includes certain safety features, you may qualify for a discount on insurance premiums. Some of the most common features that qualify for discounts include stability control, anti-lock brakes, airbags, and seatbelts.
Coverage on the policy: Certain coverage options and additions will raise your premiums, such as emergency roadside assistance. According to Credit Karma, you can also lower your premium by choosing a policy without certain coverage options or with a higher deductible.
Coverage amounts: You must meet the state-mandated minimum for coverage where you drive, but some car insurance policies offer higher coverage amounts that cost more. However, it is important to find a balance between the minimum and a higher amount, as the state-required minimums tend to be lower than the actual costs you could be liable for if you are involved in a major collision.
Although these are some of the most commonly considered factors in calculating premiums, each insurance company weighs the factors differently. One company might place a high value on your driving history, while another might focus more on your age or location. Shopping around and getting multiple quotes will help you find the best rate.
What Can Affect Your Car Insurance Premiums?
One factor that will almost certainly increase your car insurance premiums is being deemed liable in a car accident, especially if that accident caused significant injuries and/or damage. Traffic violations, such as speeding, can also cause your rates to go up.
Compare Car Insurance Rates
Insurance companies evaluate the main factors differently, and most do not release details on their formulas or how they calculate premiums.
How Often Do I Have to Pay My Premium?
How frequently you pay your auto insurance premiums depends on the company, although the most common intervals are annually, bi-annually, and monthly.
Premiums, Deductibles, and Quotes
In addition to your insurance premiums, you are also financially responsible for the deductible, which is the amount you must pay out of your pocket before the insurance company will pay anything. For example, if you are involved in a collision that causes $500 worth of damage to your vehicle and your policy includes a $250 deductible, you would pay $250 before the insurance company pays the other $250.
Sources:
https://www.caranddriver.com/car-insurance/a31173334/how-much-does-car-insurance-cost-per-month/
https://www.caranddriver.com/car-insurance/a32729012/why-does-my-car-insurance-keep-going-up-1591014701/
https://www.creditkarma.com/auto/i/what-is-car-insurance-premium
https://www.thezebra.com/auto-insurance/
https://www.nerdwallet.com/insurance/compare-car-insurance-rates
https://www.valuepenguin.com/car-insurance-premium
This content is created and maintained by a third party, and imported onto this page to help users provide their email addresses. You may be able to find more information about this and similar content at piano.io
Most Related Links :
usanewswall Governmental News Finance News