Health
Southwest's prolonged drought stressing New Mexico trees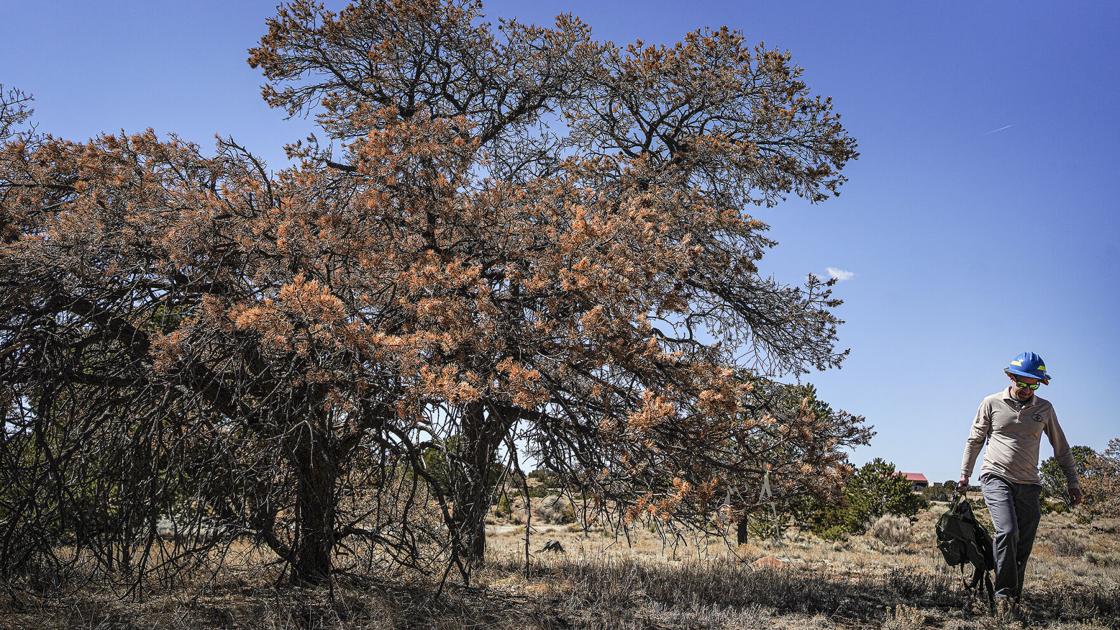 Teresa Seamster said she is usually fine with cutting down her beetle-infested piñons because it keeps the pests from spreading to healthy trees.
But she recalled mourning the loss of three majestic roadside trees that had to be felled.
"One had a big hawk's nest in it," said Seamster, who lives in the Los Vaqueros area south of Santa Fe. "It was just sad to see this big gap where you used [to] see all these beautiful trees."
Bark beetle infestations are among the effects of the state's prolonged drought, which is stressing trees throughout the region, from semi-rural neighborhoods to urban areas to forests.
Dehydrated trees can't produce the resin that's a natural pest repellent — a sort of double whammy in a drought.
Arborists, foresters, state and local governments, and residents like Seamster are working to counter the drought's impacts on trees. But it promises to be an endless battle as researchers predict climate change will create warmer, drier weather in the coming years throughout the Southwest.
The piñon pine, New Mexico's official state tree, is especially vulnerable. Harsh drought conditions led to an estimated 350 million piñons dying statewide in the early 2000s and millions more dying a decade later, leaving desolate gaps in the landscape.
Tree experts worry that an unrelenting drought could cause another enormous tree die-off, and not just piñon. Large expanses of ponderosa pine are yellowing from drought stress in wooded areas.
"If drought conditions continue on this path or get worse, it's very likely we'll have another event like that," said John Formby, an entomologist at the state Forestry Division.
Grappling with drought
The state has been in a mostly dry period since the late 1990s.
Last year's snowpack and monsoon were exceptionally light, pushing the Rio Grande to its lowest level in years. The depleted river threatened to shut down the Buckman Direct Diversion in Santa Fe for the first time in the treatment plant's decadelong history.
This winter is one of the driest in recent memory, compounded by La Niña, an ocean cooling event that reduces evaporation and results in even drier conditions in the Southwest.
Climatologists say hotter and more arid conditions will be the norm, with cooler, wetter cycles becoming shorter and less frequent.
It all adds up to thirstier trees that are more prone to pest invasions.
Higher-elevation trees, such as Douglas firs, white firs and spruce, transplanted in lower altitudes won't fare as well during an intense drought, Formby said.
Higher altitudes are cooler and moister, making the native species less able to withstand harsher conditions at lower elevation, he said.
Although piñons are indigenous to the Southwest and can survive on 6 to 8 inches of annual rainfall, the past year has yielded less precipitation than that in some areas.
Santa Fe County is ranked as being in extreme drought conditions, according to the U.S. Drought Monitor.
"Piñon pines are doing very poorly, and they're expected to do very poorly under climate change," said Peggy Darr, an open space resource management specialist for Santa Fe County.
Intense droughts devastated piñons in 2002 and 2013. The first die-off happened because of a bark beetle onslaught, and the second die-off, which was less catastrophic, came from an ips beetle attack.
The piñons that survived might be a sturdier breed better able to withstand an extended drought, but that's difficult to predict, Formby said.
The severe dry heat is turning ponderosa pines yellow in forests throughout the state, Formby said.
A tree's canopy turning yellow prematurely is a sign of stress, usually from heat, lack of water, pests or all those factors, Formby said.
Last year, the canopies of cottonwoods lining the Santa Fe River turned yellow in early August, weeks ahead of the normal color change. Arborists attributed the early withering to the river running drier than normal, depriving the riparian trees of water for their root systems.
However, if cottonwoods drop their leaves early once, it would not be a problem, so it will be important to see what happens this year, said Guy Meilleur, a consulting arborist with Historic Tree Care.
A lightened color in a tree isn't always a sign of deterioration, Meilleur said.
"Bronzing is a seasonal color change that junipers have," Meilleur said. "Some people see the color going yellowish in the winter, and they're afraid for the tree. But that's a natural defense against the cold."
Formby said junipers are one of the most durable trees in an arid region.
"Junipers are pretty drought resistant," Formby said. "So my least concern would be junipers."
Still, a 2015 study conducted by Los Alamos National Laboratory found that increasingly warm and dry Southwest weather, driven by climate change, would lead to widespread piñon and juniper deaths in New Mexico by 2050 and could wipe out the populations by 2100 if preventive measures aren't taken.
When entire piñon stands are wiped out — as they were in the past — they don't return, he said. Juniper and cactus have grown into the clearings that once contained piñon forests, he said.
That's why it's important to give piñons and other trees a fighting chance, Formby said.
What is being done
The county oversees 6,600 acres of open space, much of it woodlands with trees vulnerable to drought.
With mixed-conifer stands, crews thin the trees to limit the spread of pests and cultivate fewer and larger trees that are more resilient to climate change, Darr said.
In piñon forests, crews plant seeds on slopes facing north and east so the growing trees avoid baking in the afternoon sun, she said.
They also install straw-filled tubes near some piñons to catch runoff that the trees can absorb, Darr said.
Hydrating the piñons generates more seeds for piñon jays to collect and spread, sprouting more of the trees, Darr said.
"This will allow our piñon forests and piñon jays to thrive into the future under harsher climate change scenarios," she said.
Caring for trees is more challenging but important in cities to reduce urban heat islands, Formby said, referring to how those settings are hotter because of sparser landscaping, less natural shade and heat radiating from pavement and buildings.
Meilleur said he works with arborists on a method that involves aerating the soil around roots and filling the holes with a structural material. The work has been done with trees on the Santa Fe Plaza and in regional parks and woodlands, he said.
When pruning trees, cut as few branches as possible, Meilleur said. Branches should be cut back just enough to clear a road or structure, and they should never be lopped off near the trunk, he said, because that exposes the inner tree to heat.
People shouldn't compound the stress that trees are already under in the drought, Meilleur said.
Pests have been more invasive in the past year on private lands, partly because those tracts are at a lower elevation than most national forests, making them hotter and drier, according to a state Forestry Division report.
That certainly has been the case in Seamster's neighborhood, where pests have been a nuisance for at least a decade.
Seamster said she regularly walks her property to check on the piñons. If one looks sickly, she knows it has been infested and has it chopped down to prevent spread.
She sprays her trees with a nontoxic pesticide mixed with water, which has the added benefit of hydrating them, she said.
Her vigilance has paid off. Nearly all her trees are healthy and bug-free. That ensures she won't have to relive the experience of cutting down 1,000 infested trees, as she and her husband did after they moved there a decade ago, she said.
The tree casualties included the three big piñons near the road and a large one on their property's ridge that was painful to see removed, she said.
She knows fighting pests is the new reality with a changing climate, she said.
"You're never going to get rid of bark beetles now," Seamster said.
Most Related Links :
usanewswall Governmental News Finance News