News
The Best Wood Carving Tools, for Beginners to Experienced Hobbyists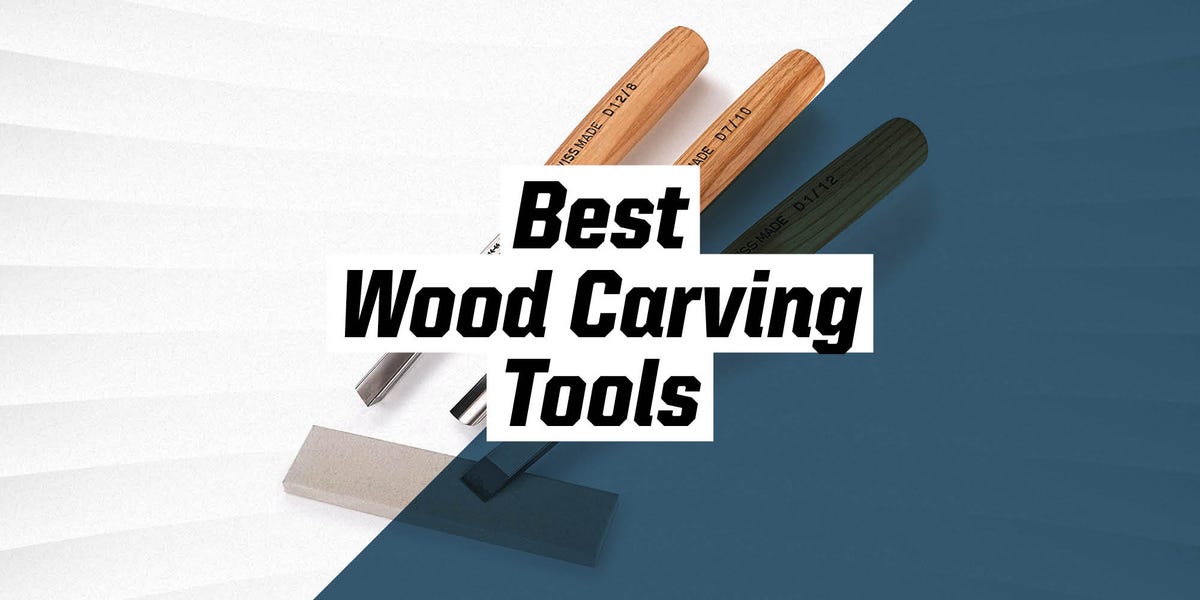 Unlike typical woodworking tools that are designed with maximum efficiency and productivity in mind, these wood carving tools are skewed more towards the artistic and creative side of things. Their long, ergonomic handles and variety of blade shapes allow you to maintain maximum control while you whittle, carve, and chisel a block of wood into whatever object you have in mind. If you're interested in expanding your carving hobby, these tools are also well-suited for use in fruit and vegetable carving. Whatever you decide to do, just make sure to observe the proper safety procedures—especially with small children—as these tools are extremely sharp.
What to Consider
The main factor to take into account when considering what wood carving tools to purchase, is the type of item you plan on carving. If you're thinking of sticking with classic items like bowls, cups, and spoons, you're going to want to make sure you have a hook knife included in your kit. This curved tool is absolutely essential for scooping out the inside of your work piece, and you'd have a hard time substituting it for any other tool. If you plan on creating more artistic, or detailed pieces, go with a kit that has smaller, precision blades that can create the intricate designs you're probably looking for. If you're not sure, and are just starting out, you should probably go with a more comprehensive kit that has a little bit of everything.
You should also think about the material you're going to be carving. If you don't already have any wood on hand, you'll probably want to choose one of the kits that includes a couple of blank blocks to get you started. Also, if you're purchasing a set to give to a child, it would be a good idea to pick an option that comes with a pair of cut-resistant gloves.
How We Selected
Wood carving tools can come in different sizes as you progress, but we tried to focus most of our picks on more beginner options, like smaller knives and chisels. We also did our best to include a range of set sizes—from single knives all the way up to 24-piece sets—so whether you just need a new hook knife, or you're looking to gift a complete set to a beginner, you should find an option that works for you. We took price into account as well, and though we did include a couple higher-end options, we tried to keep our prices low, without sacrificing quality.
Advertisement – Continue Reading Below
1
Best High-End Set
BeaverCraft Deluxe Wood Carving Kit (8 Pieces)
BeaverCraft
amazon.com
$200.00
$149.95 (25% off)
This deluxe kit from BeaverCraft includes eight carving knives with walnut handles, as well as a leather strop and polishing compound so you can easily keep them shiny and sharp. 
A high-quality leather roll keeps your tools safe and secure when you're not using them, and makes it easy to transport to a campsite, or to the back porch. This kit is a bit more expensive than the other options on our list, but the quality construction and stylish case could be worth it to the right customer, or as a gift for someone else. 
Durable construction
Genuine leather pouch
More expensive than similar options
2
Best Detail Knife
BeaverCraft Wood Carving Detail Knife
BeaverCraft
amazon.com
$12.95
Those looking to supplement their existing carving tool collection should probably consider this Beavercraft detail knife. It's designed to be used for intricate and delicate work, such as figurine carving or sculptural accents. By being flexible as well as durable, it's perfect for creating tiny cuts and for accessing tight or awkward areas of your work piece. 
Its ergonomic handle makes it even more appropriate for detailing, allowing you to maintain full control while you work, which also leads to a safer tool overall. There's no stropping or sharpening required, and you can use this knife right out of the box. 
Low price
Ergonomic handle
First-time carvers would probably want a full set
3
Compact Option
Old Timer Traditional Folding Whittling Knife
Old Timer
amazon.com
$19.94
Perfect for campers, hunters, or those who just don't want to deal with storing and organizing separate knives, this foldable model provides six different carving tools into one compact unit. Its metal end caps should help to reduce damage from any drops or falls, and the carbon steel of the blades themselves make this a durable, reliable tool. 
At just 6 inches long and 3.9 ounces, you should have no trouble fitting into a backpack, coat pocket, or glove box, and its foldable design keep the sharp blades safely locked away, reducing the chances of accidental cuts to yourself or your clothes.   
Good value for the amount of blades
May not be as convenient as a set of individual tools
4
Best for Beginners
Wood Carving Kit for Beginners
If you're a beginner starting from scratch, or you want to get your child started in wood carving, this kit could be the perfect choice. It includes four basic knives, a sharpening stone, and most importantly — two wooden blocks, so you'll be able to start carving as soon as it arrives. 
It also comes with a pair of cut-resistant gloves, making this safer than the average kit, and a good choice for kids. It's also priced lower than you might expect — at less than $30 — and includes straightforward instructions for properly using the sharpening stone, leather strop, and sharpening compound. 
Includes storage roll
Polishing compound extends the life of the blades
Blade selection is a bit limited
5
Best Budget Kit
Gimars Carbon Steel Wood Carving Tools (Set of 12)
If your budget is tight, this 12-piece kit could be just what you're looking for. Its abundance of knife options means you'll be prepared for a wide variety of carving tasks, and the carbon steel blades are strong enough to keep their shape over time. 
We're also big fans of the plastic tips that are included for each blade, which makes them both easy to store and will help prevent accidental injury when not in use. They're also thin enough to not take up too much room in a drawer or pouch, making them great for those short on space who still want a full set. 
Low price
Good selection of options
6
Best Left-Handed Kit
BeaverCraft Wood Spoon Carving Tool Set
BeaverCraft
amazon.com
$38.95
Lefties will appreciate the left-handed hook knife provided with this kit, that also includes a sloyd and detail knife. This hook knife is perfect for carving spoons, bowls, and cups, as well as rounded edges of any kind. The leather strop will also ensure that your blades will always be razor sharp, and the included pouch is a nice perk. 
Their wooden handles are designed to fit your hand nicely, and should provide the control you need to perform both large and intricate cuts. Just like most of our other kits, this one includes the green sharpening compound, as well instructions on how to use it. 
Designed for left-handed users
Easy-to-read sharpening instructions
7
Most Versatile Option
Waycom Professional Wood Carving Kit (24 Pieces)
If you're looking for a comprehensive option that will have you prepared for nearly any wood carving tasks that may come up, this 24-piece set could be the perfect choice. It features three separate sets, so whether you need an extra-small .11-inch triangular knife or a heavy-duty .7-inch chisel, you should find what you're looking for. 
These tools also come in a variety of blade shapes and styles, like triangular, round, curved and straight options, making this set more versatile than most. This kit would also be well-suited for those who want to start fruit or vegetable carving. 
Includes 24 pieces
Good value for the price
8
Best High-End Intro Set
Pfeil Wood Carving Set
If you have the budget for them, and you're not necessarily interested in a large set, these high-quality Swiss tools could be a great choice. It includes a double bevel gouge, a #7 gouge, and V-shaped parting tool, which should suffice when it comes to most basic carving projects. 
You'll likely want to expand your collection once you get more experience, but for beginners, this kit is a great start. It comes with a sharpening stone as well, so you'll be able to easily keep all your blades prepped for precise and accurate carving.  
High-quality construction
Limited tool selection
Expensive
This content is created and maintained by a third party, and imported onto this page to help users provide their email addresses. You may be able to find more information about this and similar content at piano.io
Advertisement – Continue Reading Below
Most Related Links :
usanewswall Governmental News Finance News